This edition's cover celebrates our third Young Collectors feature which sees cutting-edge typoghraphy mixed with vibrant colours. As this jam-packed issue marks the largest Canvas produced yet, the cover design decision was unanimously selected to support this issue's major features.

Hailing from Bahrain, India, Palestine, Iran and the UAE, Canvas's third Young Collectors feature profiles nine rising protagonists including His Excellency Omar Ghobash, Dana Farouki, Negin Fattahi-Dasmal, Abdul Rahman Al-Zayani, Fawaz Kanoo, Farshad Mahoutforoush, Sanaz Ameri, Dina Nasser-Khadivi and Dipesh Depala. They share their experiences in the art world, views on the Middle Eastern art scene, passion for art collecting and ambitions for the future.

This issue features a UAE Galleries Special which presents the nation's 27 galleries, shedding light on their recent developments – from new spaces, changes in name and location to expansions of artist roster and book publishing divisions, among other issues. The gallerists voice their comments on the local scene and concerns for the future alongside opportunities for growth and widening the scope of the Dubai art market.

World-renowned institution, the Museum of Modern Art (MoMA) in New York, boasts works by the likes of Paul Cezanne and Andy Warhol. Within its 150,000+ holdings are 60 works by Middle Eastern artists, including Zaha Hadid (Canvas 3.2 and 6.6), Mona Hatoum (Canvas 6.1), Shirin Neshat (Canvas 3.5) and Walid Raad (Canvas 5.2), among others. In 2002, MoMA hosted a groundbreaking exhibition on Arab cinema, marking an important milestone for the museum and reinforced its drive to promote regional talent.
Plus profiles on Jaffar Al-Oraibi, Mehdi Farhadian, Shiva Ahmadi and Shawki Youssef,
a preview on the Turkish Saatchi show Confessions of Dangerous Minds,
Huda Lutfi for The Last Word and much, much more.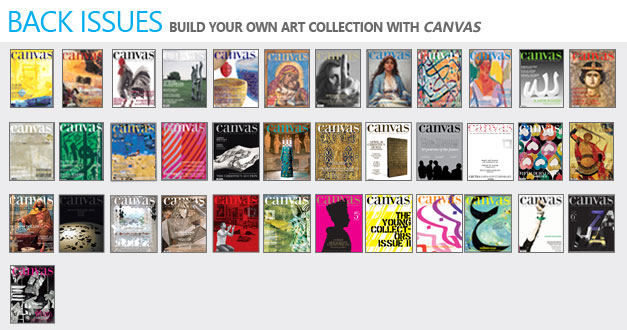 The premier magazine for art and culture from the Middle East and Arab world.
Visit www.canvasonline.com to find your local stockist or subscribe online now!

Canvas is published by Mixed Media Publishing, P.O. Box 500487, Dubai - UAE
Tel: +9714 3671693 - Fax: +9714 3672645 - mail@mixed-media.com